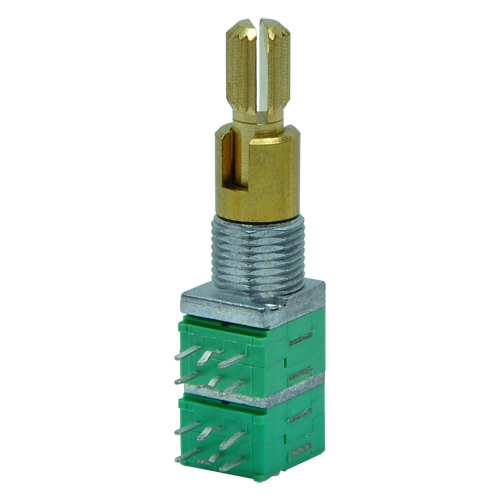 | | |
| --- | --- |
| Series | F094 |
| Package diameter | 9mm |
| Operating Direction | Horizontal Vertical |
| Bushing material | |
| Number of Gangs | 1-6 |
| Power-linear | 0.05W |
| Power-audio | 0.025W |
| Life cycle | 15K |
| Switch Option | Y |
| Detent Option | Y |
| Mounting | |
| Element | |
| Temperature ppm/℃ | |
| Tolerance | |
| Pulse | |
| Shaft material | |
| Life cycle | |
| Operating type | |
| Power rating | |
| Travel(mm) | |
| Lever length | |
| Turns | |
| Specification | Document download |
Introdution
1. Flux builded-up prevention is taken through inserting molding around the resistor with resin.
2.A large variety of products lined up to support various applications.
3.With dual shaft adjustment.
Electrical characteristics
Total Resistance

1KΩ~1MΩ
Total Resistance Tolerance

500Ω<R<1MΩ:± 20%:R<500Ω or R>1MΩ:±30%
Resistance Taper

A, B, C
Max. Operating Voltage

AC50V, DC10V
Rated Power

Linear Taper B: 0.05W: Other Tapers: 0.025W
Rotational Noise

Less than 100mV
Insulation Resistance

More than100MΩ at DC 250V

Withstand voltage

1 minute at AC 300V
Residual Resistance

Term.1~2: Less than 20Ω: Term.2~3: Less than 20Ω
Mechanical characteristics
Total Rotational Angle

300°± 10°

Rotational Torque (outer shaft)

5~90gf.cm

Rotational Torque (inner shaft)

3gf.cm~60gf.cm

Click Torque

50gf.cm~200gf.cm

Rotational Stopper Strength

3.0Kgf.cm Min.

Push-Pull Strength

6.0Kgf Min
Durability
Rotational Life

Standard life: 15,000 Cycles Min.: Long life: 100,000 Cycles Min.
Switch characteristics
Rated power

3.0A at DC 16V

Contact Resistance

Less than 100mΩ

Rotational Angle

50 °Max
Switch torque

500gf.cm Max
Switch life

15,000 Cycles.